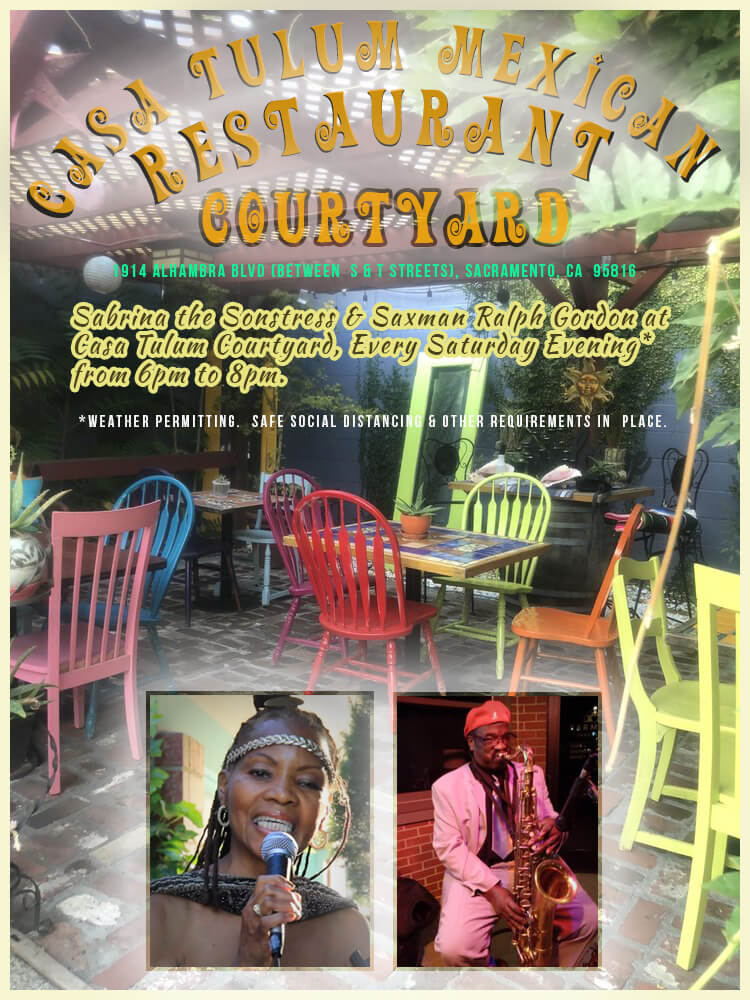 Sabrina the Songstress and Ralph Gordon Every Saturday

| | |
| --- | --- |
| | March 20, 2021 |
| | 6:00 pm |
| | Sacramento, CA |
| | Casa Tulum Mexican Restaurant, 1914 Alhambra Blvd, Sacramento, CA. 95816 |
The Casa Tulum  Mexican Restaurant is now open for outdoor dining and the entertainment is back!   So if you're in the mood for music and dining, join Sax and Flute Man, Ralph Gordon and Sabrina The Songstress as we serenade you in the beautiful Courtyard with great jazz and R&B music.  Feel free to stop on by even if for a few moments.  We would love your support!
Location:  the Casa Tulum Mexican Restaurant at 1914 Alhambra Blvd.   (between S and T Streets)
Date/Time:  Every Saturday evening from 6:00pm to 8pm
Safe social distancing and all other health/safety  requirements will be in place.
You may make reservations if desired by calling the Casa Tulum Mexican Restaurant at (916) 996-2879.
There will be heaters to warm you after dark and you may want to bring a sweater or jacket too, just in case…..
Ralph and I would love to see you!  And, tell a friend!
Sabrina The Songstress